Spider-Man and Venom Absolute Carnage features exciting characters that fans will recognize from across the Marvel Universe like Spider-Man, Green Goblin, Mysterio, and more! Fans will find more Venomized versions of beloved characters like Captain Marvel and Doctor Strange as well as characters that have never been clixed like Knull, Scream, White Rabbit, and more!
Exciting new gameplay will highlight characters' secret identities, symbiotes, and extra special bonuses for keywords and themed teams!
Every booster will come with 5 pre-painted figures and select boosters will come with a bonus equipment-objects like Pumpkin Bombs, Carnage Symbiote, and All-Black the Necrosword to use on your HeroClix team!
In addition to classic characters, there will be some NEVER BEFORE SEEN characters created exclusively for this set from the Spider-Verse like Spider-Man 1776, Spider-Pharaoh, and Leonardo da Venom!
This booster set contains (*Contents subject to change):
17 Commons (plus 1 Prime)

17 Uncommons (plus 1 Prime)

16 Rares (plus 1 Prime)

12 Super Rares (plus 1 Prime)

8 Chases

7 Equipment Objects (included with select figures in 5-Figure Boosters)
Release Date: September 9, 2020
MSRP for Booster: $13.00
MSRP for Brick: $129.99 (Brick is 10 Boosters)
SOME SECRETS ARE WORTH DYING FOR
Feel the cold touch of death in this adventure for the world's greatest roleplaying game.
In Icewind Dale, adventure is a dish best served cold.
Beneath the unyielding night sky, you stand before a towering glacier and recite an ancient rhyme, causing a crack to form in the great wall of ice. Beyond this yawning fissure, the Caves of Hunger await. And past this icy dungeon is a secret so old and terrifying that few dare speak of it. The mad wizards of the Arcane Brotherhood long to possess that which the god of winter's wrath has so coldly preserved—as do you! What fantastic secrets and treasures are entombed in the sunless heart of the glacier, and what will their discovery mean for the denizens of Icewind Dale? Can you save Ten-Towns from the Frostmaiden's everlasting night?
Icewind Dale: Rime of the Frostmaiden is a tale of dark terror that revisits the forlorn, flickering candlelights of civilization known as Ten-Towns and sheds light on the many bone-chilling locations that surround these frontier settlements.
Release Date: September 15, 2020
MSRP: $49.95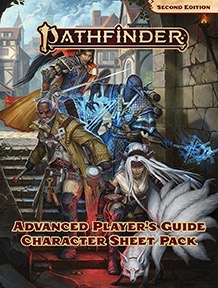 Advance your character with the Advanced Player's Guide Character Sheet Pack! Track your hero's statistics and accomplishments with these full-color character sheets designed to include exactly what your character needs! This product comes in a sturdy folder to store character sheets, with reference information such as game actions, a summary of crucial conditions, and death and dying rules. Inside are 16 sheets for characters and campaign tracking. These include specialized character sheets for each of the four classes from the Advanced Player's Guide, with class features and special actions already filled in! Plus you'll find sheets for the evil champions and for oracle spells and curses from that book. Furthermore, there are three standard blank sheets suitable for characters of any class, an alternate sheet with a simplified design, and expanded sheets to track character inventory, campaign notes, adventure logs, NPCs, spells, animal companions, and alchemy books.
Release Date: September 16, 2020
MSRP: $14.99
Zendikar is a dangerous world of lethal risks and priceless rewards. From the perspective of its inhabitants, it is a hostile place that seems to be actively trying to kill the creatures that have the audacity to live there.

Draft Boosters are the classic Magic booster — 15 cards from the set designed for a balanced Draft experience plus an ad card or token. These boosters are the backbone of Magic and are key to building a balanced deck in Sealed formats like Draft or Prerelease.
Set boosters are the go-to for players who love to open boosters just for the fun of seeing what they'll get. Just like Collector Boosters are for collecting and Draft Boosters are for drafting, Set Boosters are for opening packs to see what's inside.
Collector Boosters are supercharged booster packs, loaded with nothing but the best. Each pack includes 15 of the most desirable cards from Zendikar Rising.
Release Date: September 18, 2020
Set Booster MSRP: $125.00
Draft Booster: $110.00
Collector Booster: $250.00